Mandy Boursicot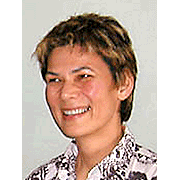 My approach to art is rooted in my experience and identity as a person of mixed heritage in a post-colonial world.

Within the cultural diversity of the world today, the perception of pure types as being inherently desirable or superior still exists. Using academic formality and stylistic manipulations, my work counters such ideas, whilst embracing the dynamic history and contemporary vibrancy of cultural dialogue and exchange.

Making use of representational, formal still life painting, I portray Asian and Orientalist artifacts in the traditional western academic mode of Classical Realism. Placing the objects in this context allows for an interplay of form and content which reflects my experience and interest in the exchange and synthesis of ideas and materials between east and west. Through the depiction of iconic objects we can see the past, but through presentation and stylized composition, I attempt to stimulate consideration and discussion of current realities. The actual content of the paintings is no more still than viewing a broad span of living history and cultural interaction.

My work is a lens with which I examine and explore my own Eurasian identity. I also examine the identity of those around me, by way of observing the currents and patterns of cultural flux. The global trend of heterogeneity increasingly moving towards homogeneity is noticeable especially in North America, among families who have recently relocated into a western setting for the first time. Elders often fear, usually too late, that their children are losing the traditions of their parent culture, which is utterly usurped when their youth wholly embraces generic, western, consumer values. Domestic objects, such as traditional household items like porcelain, linens and silvers that individuals tend to treasure, are chosen in part, consciously or not, as markers with which to anchor cultural distinctiveness in the midst of an ever more eclectic population. In a society where the disposable, the current, and the fashionable are imbued with exaggerated importance, the integrity and steadfast nature of these marker objects very much represent an antithesis and perhaps act as something of an antidote to contemporary western consumer culture.

Furthermore, these valued domestic objects often can be keys, or ciphers. The reasons for valuing an object can be many, and when these reasons are examined, each can yield important information about cultural identity. On one level they simply are a result of the innate human desire to possess objects that delight and inspire, while at another level they act collectively as vessels or conduits for carrying a family?s ethnic, social, and class background. Often, collections are consciously designed from the start to become heirlooms intended to preserve and transmit that cultural heritage to future generations. As artfully crafted objects in their own right, they are often further invested with tradition, culture, and belief, and as such, are eminently worthy of close study and examination, in addition to broader sociological considerations.

To me, homes are a form of incubator, where ethno-specific cultural memes are able to flour sh. What I find interesting is the relocation and integration of these established memes into a diverse and pluralistic society, such as that found in the New World, where they not only complement and contrast with each other, but with the overarching established social culture. While "heterogeneity" implies diversity, it also implies apartness... and a significant part of why people cling to cultural heirlooms is to maintain some sense of "apartness", because they are in fact inexorably sliding towards "sameness", being simultaneously drawn and pushed into the "mainstream".

My belief is that a middle path between ?sameness? and ?apartness? exists, neither completely rejecting nor capitulating to either a dominating or an alien culture. I use my art to suggest a successful symbiosis between cultures, in which nothing is outright, rejected, but all are adapted so that minority cultures are able to find a niche without losing their shape, and both host and guest cultures are enriched.

************************
Résumé
Place of Birth: Hong Kong
Residence: Vancouver, B.C.
STUDIES
Emily Carr Institute of Art and Design (Vancouver, B.C.), BFA
University of Hong Kong SPACE, Certificate in Foundation Art and Design
Hong Kong Polytechnic & HKMA, Diploma in Management Studies
University of Kent at Canterbury (Canterbury, England), BA in European Studies
King George V School (Hong Kong)
Kowloon Junior School (Hong Kong)
École Cantonale (Fribourg, Switzerland)
École des Oiseaux (Saigon, Vietnam)
AWARDS
2003 British Columbia Arts Council Grant (Vancouver, B.C.)
2003 Artist Residency, Pintura (Vancouver, B.C.)
2002 Artist Residency, Vancouver Parks Board (Vancouver, B.C.)
1995 Outstanding Entry, Artist of the Year, Caran diAche (Hong Kong)
1995 Finalist, Philippe Charriol Modern Art Competition (Hong Kong)
1993 First Runner Up, The Righteous Terminator Competition ATV (Hong Kong)
1975 School Art Prize, King George V School (Hong Kong)
1973 School Art Prize, King George V School (Hong Kong)
1972 School Art Prize, King George V School (Hong Kong)
1969 School Art Prize, Kowloon Junior School (Hong Kong)
SOLO EXHIBITIONS
2004 Buschlen Mowatt Galleries, ?Primary, Secondary?, Vancouver, B.C.
2004 ICS, ?Solo?, Geneva, Switzerland
2003 Diane Farris Gallery, ?Prized Possessions?, Vancouver, B.C.
2002 Buhran Gallery, ?Eastern Elements?, Calgary, AB
2002 Diane Farris Gallery, ?The Five Elements?, Vancouver, B.C.
2001 Diane Farris Gallery, ?White Porcelain, Painted Dragons?, Vancouver, B.C.
2000 UNESCO Centre, ?A Macanese Story?, Macau
2000 Red Corner Oriental Art, ?From East to West?, Vancouver, B.C.
1996 Kulcha Kafe, London, England
1996 HK Arts Centre, ?Visions through Water?, Hong Kong
1995 Club 64, ?100 Nudes?, Hong Kong
1994 Petticoat Lane, ?Female Passion?, Hong Kong
GROUP EXHIBITIONS
2006 Lamoureux Ritzenhoff Gallery, Montréal, QC
2006 Agnes Bugera Gallery, ?Still Life Symphony?, Edmonton, AB
2005 Agnes Bugera Gallery, "Imagination Constructs", Edmonton, AB
2005 Emily Carr Institute, ECIAD Alumni Show, "Evolution", Vancouver, B.C.
2005 Portuguese Benevolent Society, "My Portugal", Vancouver, B.C.
2005 Wallace Galleries, "Illusions of Reality", Calgary, AB
2004 The Roundhouse, "Pride in Art", Vancouver, B.C.
2004 Buschlen Mowatt Gallery, "Western Perspectives", Vancouver, B.C.
2004 Agnes Bugera Gallery, "Classical Realists", Edmonton, AB
2002 Diane Farris Gallery, "Christmas Show", Vancouver, B.C.
2002 "Artistas de Macau", Oporto, Portugal
2002 Galerie du Monde, "Old Encounters", Hong Kong
2002 "The 17th Asian International Art Festival, Seoul, South Korea
2001 Macau Cultural Centre, "Macau Encontro", Macau
2001 Galerie Martini, "Summer Spices", Hong Kong
2001 Diane Farris Gallery, "The Fall Collection", Vancouver, B.C.
2001 Artropolis, Vancouver, B.C.
2000 Unitarian Church, "Spirit of Women", Vancouver, B.C.
2000 The Roundhouse, "Pride in Art", Vancouver, B.C.
1999 The Roundhouse, "Pride in Art", Vancouver, B.C
1999 Vancouver, B.C. Community Arts Council, "A Show of Hands", Vancouver, B.C.
1999 ECIAD, "Mirror, Mirror on the Wall", Vancouver, B.C.
1998 The Roundhouse, "Pride in Art", Vancouver, B.C.
1997 ECIAD, "Orientations", Vancouver, B.C.
1996 Angel Café, London, England
1994 "Living with Hope", Hong Kong
PUBLIC WORK AND COMMUNITY INVOLVEMENT
2006 Art for Life Fundraising Auction, Vancouver, B.C.
2006 Arts Umbrella Fundraising Auction, Vancouver, B.C.
2006 Edmonton Art Gallery Fundraising Auction, Edmonton, AB
2005-2006 Spirit Bears in the City, Vancouver, B.C.
2005 Arts Umbrella Fundraising Auction, Vancouver, B.C.
2005 Art for Life Fundraising Auction, Vancouver, B.C.
2004 Arts Umbrella Fundraising Auction, Vancouver, B.C.
2004 Vancouver, B.C. Art Gallery Fundraising Auction, Vancouver, B.C.
2004 Orcas in the City, HSBC, Vancouver, B.C.
2002 Mount Pleasant Community Centre, Artist in Residence, Mural, Vancouver, B.C.
2002 Vancouver, B.C. Art Gallery Fundraising Auction, Vancouver, B.C.
2001 Vancouver, B.C. Art Gallery Fundraising Auction, Vancouver, B.C.
2000 Casa de Macau, Centenary Project, Vancouver, B.C.
1998 Street Angels Donation, Vancouver, B.C.
1998 Casa de Macau, Macanese Heritage, Vancouver, B.C.
1998 Pride in Art, Promotional Design, Vancouver, B.C.
1996 HKU Art Club, Life Drawing Tutor, Hong Kong
1996 Youth Arts Festival, "Art in the Park", Hong Kong
1995 The Warehouse," Dragon Mural", Hong Kong
1995 Youth Arts Festival,"Future of Hong Kong Mural", Hong Kong
1994 Art Metro, "Jungle Mural", Hong Kong
COLLECTIONS
Byron Aceman, Vancouver, BC, Canada
Dr. Kathy Boursicot, London, England
Dr. Veronique Bouchet, London, England
Leslie Bream, Vancouver, BC, Canada
Jack & On Chow, Shanghai, China
Fundacao do Santo Nome de Deus, Lisbon, Portugal
Fundacao Macau, Macau SAR, China
Hugh Jackman, Hollywood, USA
Isabelle Lafforgue-Yu, Hong Kong SAR, China
Merisa Lee, Hong Kong SAR, China
Jane Mortifee, Vancouver, BC, Canada
Michael O'Brian, Trustee of the Vancouver Art Gallery, Vancouver, BC, Canada
Mark & Angela O'Hara, London, England
Senator Pat Carney, Ottawa, ON, Canada
Yuanta Asset Management, Hong Kong SAR, China
BIBLIOGRAPHY AND VIDEOGRAPHY
Ming Pao Chinese Newspaper, July 2006
Artichoke, Vancouver, B.C., Spring 2005
L'Express du Pacifique, July 2004
Edmonton Journal, May 2004
Lusitania, Vancouver, B.C., January 2004
CBC, "Zig-ZagArt of Western Canada Review", January 2004
Vox Nova, "Pagina da Juventude", June 2003
Preview, April 2002
South China Morning Post, July 13, 2001
Asian Art News, March 2001
Revista Macau, January 2001
Asian Art News, November/December 2000
The Asian Post, September 8, 2000
ECIAD Visions, January 2000
Voz des Macaenses, August 1999
The National Post, July 13, 1999
The Giorgia Straight, September 10, 1998