Laurent Bonet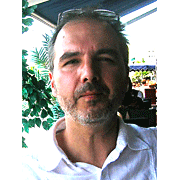 Laurent Bonet was born in Barcelone, Spain, in 1958. He starts painting at his famous father's, Jordi Bonet's, studio at the end of the 70's.
Laurent Bonet decided to devote himself to paint in order to reveal the human body and soul. Beyond the paradigm between beauty and ugliness, good and evil, a series of mythical symbols arises, giving his work an incomparable depth and richness.
"Regardless of wealth, power or beauty, once death shows up, what do we become? What is left of Man when his only remaining friend is this Earth which brings him back to his painful and ephemeral condition?" It is precisely this reality that the artist tries to capture and to transform.
Bonet's angel has fallen to the ground. We want him to open his eyes and discover his true face; his true state. The same can be said from his work: an art which reveals the force of its substance after refining his patient labour.
L.B.
Résumé
Place of Birth: Barcelona, Spain, in 1958
Place of residence: Province of Quebec
STUDIES
1981 École Supérieure des beaux-arts de Paris, France
1980-1982 École Supérieure des arts appliqués de Paris, France
SOLO EXHIBITIONS
2011 Musée des beaux-arts du Mont-Saint-Hilaire, Mont-Saint-Hilaire, QC, Canada
2011 Galerie d'art Trudel, Joliette, QC, Canada
1997 Musée Pierre-Boucher, Trois-Rivières, QC, Canada
1994 La France Antique, Westmount, QC, Canada
1992 Galerie Centre d'art contemporain, Mont-Saint-Hilaire, QC, Canada
1991 Galerie Frontenac, Quebec, QC, Canada
1990 Galerie Le Balcon d'art, Montreal, QC, Canada
1977 Galerie Jordi Bonet, Mont-Saint-Hilaire, QC, Canada
GROUP EXHIBITION
2011 Galerie Lamoureux Ritzenhoff, Montreal, QC, Canada
2008 Galerie Cristin, Toronto, On, Canada
2007 Galerie Cristin, Toronto, On, Canada
2004 Galerie du Château Frontenac, Quebec, QC, Canada
2003 Galerie Michel Bigué, Saint-Sauveur, QC, Canada
2001 Galerie Yves Laroche, Montreal, QC, Canada
1999 Galerie Cristin, Toronto, On, Canada
1994 Galerie Clarence Gagnon, Montreal, QC, Canada
1993 Salons nationaux des beaux-arts de Paris, Grand Palais, Paris, France
1992 Galerie Frontenac, Quebec, QC, Canada
1992 Centre d'art contemporain, Mont-Saint-Hilaire, QC, Canada
1989 Centre culturel du Mont-St-Bruno, Mont-Saint-Bruno, QC, Canada
1978 Galerie du Manoir Campbell, Mont-Saint-Hilaire, QC, Canada
PRIZES AND OFFICIAL ACKNOWLEDGEMENTS
1977 Won bursary from Quebec Government (then Ministry of Cultural Affairs), "Artist in Residency" program, Cité Internationale des Arts de Paris. Bursary obtained with the group PARA and Jordi Bonet
COLLECTIONS
Loto Québec, Montreal, Quebec
Private collections in Canada, United States, France, Spain and Japan
BIBLIOGRAPHY
2011 L'Oeil régional Newspaper, « Laurent Bonet au Musée d'art du Mont-Saint- Hilaire »
1995 Parcours Magazine, GEORGES, Karoline, « Laurent Bonet, la théâtralité » (Autumn, pg.105-106)
1994 Le Soleil Newspaper, LAPOINTE, Josée, « Une enfance baignée dans l'art » (January 7)
1990 Le Collectionneur, SAVIGNAC, Pierre, « Laurent Bonet, force et avenir » Montréal, (volume VII, number 28, Autumn 1990, pg.79-80)
1979 L'Oeil régional Newspaper, « Exposition des œuvres du groupe PARA à la galerie du Manoir Rouville Campbell »
1978 Le Devoir Newspaper, « Création visuelle signée par le groupe PARA »
1977 L'Oeil régional Newspaper, « Exposition Laurent Bonet et Yvon Coderre au Manoir Rouville Campbell »
******************