Joseph Anthony B.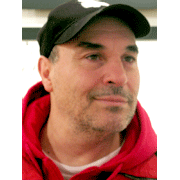 Joseph Anthony B. was born in Maia on Saô Miguel Island, a small village in the Azores, Portugal.


The visual artist:

Joseph Anthony B. started to paint extensively in 2008 after a personal life trauma. Painting became like a safety valve for his excessive pain "faster to execute than composing a song" says the artist.

Joseph Anthony B. paints landscapes of pure quietness and beauty.

There is no paint brush nor spatula knife work on his paintings. All his works are executed with a rhythm given to the liquid oil applied directly on wood panel or canvas.

For the artist, it is very important "to contribute to the preservation of Mother Nature": he was born on "Earth Day" on April 22. This could explain why he paints "pure air", "pure water", "pure skies and clouds" and "pure oceans" with no trace of pollution. There is a whole series titled "Avatar" in this pure genre of landscapes.

His modern and unique artworks have been acquired by collectors in the United States, in Europe, in Quebec and in other provinces of Canada.


The musician songwriter:

Josè Antonio de Melo Bulhoes arrived in Montreal, Canada at the age of twelve (12) with his head full of Elvis Presley's songs. The same year, he starts his first music group. Both his father and grand-father were Meastros for the religious processions on its native island.

Young Joseph Anthony B. is committed to strong physical, vocal and instrumental training. He sings as lead singer for different groups: "José and Friends" (1971-73), "B.W. RAT" (1973-78), "Hodge & O'Brian" (1978), "Corpus" (1978-86), "John Parrat Project" (1986), "Neutral Ground" (1987-88), "Common Ground" (1996-98) and "Request" (2003-04) where he is invited to join as signer and guitar player.

In 1975, he wins the "Golden Gloves Award" in amateur boxing and is qualified to join the Canadian Boxing Team for the 1976 Olympic Games.

In 1997, he is invited to join the Portuguese Philharmonic Orchestra of Montreal as a saxophonist.

In 2000 and 2003, his two daughters were born. The artist then put out an all original songs album titled "Message of Love" which was released in 2007.

His second album "And the Angels Are Crying" is composed between 2007 and 2011. His third album "Sky's the Limit" is completed during Autumn 2012. Some songs are available on CD Baby, YouTube or iTunes.

His fourth album, "Bellas Das Bellas", an all Portuguese album, is presently being recorded (2013-2014).

You can visit his music website at: http://www.josephanthonyb.com
Résumé
Place of Birth: Portugal
Date of Birth: 1957
Currently residing: Quebec, Canada
Professional painter since: 2010
Self-taught artist: singer-songwriter and painter
GROUP EXHIBITIONS
2010-2016 Galerie Lamoureux Ritzenhoff, Old Montreal and/or Downtown galleries, QC

2012 Espace Le Cercle Carré - Centre de services de justice réparatrice, April 24 - 29, Old Montreal, QC

2011 Musée des beaux-arts de Mont-Saint-Hilaire "150 Variations sur le noir en couleurs", Salon d'automne, 29 sept. - 30 oct., Mont-Saint-Hilaire, QC

2011 Centre de services de justice réparatrice "Vivre après le crime" - L'Art libérateur, April 6 - 16, Montreal, QC
BIBLIOGRAPHY AND PUBLICATION
2012 Interviewed by Karla Kaminsky from C.T.V. News at the artist's studio, May 8, for May 13 and May 14 news report, Montreal, QC
2010 Parcours Art & Art of living, no. 69, Spring edition: pulication of "Avatar" in the article "Lamoureux Ritzenhoff - la galerie célèbre ses 10 ans", p. 95
2010 Vie des arts, no. 218, pubication of "Ski Dream" under the article "Les Dix ans de la Galerie Lamoureux Ritzenhoff", p. 20
2007 releasing of the CD album "Message of Love"
BIOGRAPHY
2014 Production of 4th album "Bellas Das Bellas" all in portuguese
2013 Production of 3rd album "Sky Is the Limit"
2013 Production of 5 videos for YouTube with new written songs
2010 begin to exhibit his paintings at Galerie Lamoureux Ritzenhoff, Mtl QC
2009 Production of 2nd album "And the Angels Are Crying"
2007 Launching of 1st album (CD): "Message of Love"
2004-2006 Studio work for the album (CD) "Message of Love"
2003-2004 Invited guitar player and singer "back vocal" for the group "Request".
Performances in weddings and Portuguese associations of the Great Montreal
2003 Birth of his second daughter: Joséphine
2002 Wedding
2000 Birth of his first daughter: Laura-Rose
1997 Invited saxophone player for the 25th Anniversary of the "Philarmonic Portuguese
Orchestra of Montreal" – "Filarmonica Portugesa Montreal"
Performances in Montreal, Hull, Ottawa and Boston
1996-1998 Singer for the group "Common Ground"
Performances in clubs of Montreal and Laval (Bourbon Street West, Mad Max, etc.)
1992-1995 Professional karaoke singer
Performances as the main singer in various clubs and brasseries of Montreal
1987-1988 Singer for the group "Neutral Ground"
Performances in various clubs of Montreal and Morin Heights (Cock & Bull, The Communs, etc.)
1986 Singer for the group "John Parrat Project"
Realization of an album with John Parrat; various musical arrangements
1978-1986 Singer and guitar player for the group "Corpus"
Composition of various original songs with Gavino Rozza; performances in various clubs of Montreal, outdoor performances (Station 10 Bar, Camping Saint-Tropez of Sainte-Melanie)
1978 Singer and guitar player for the group "Hodge & O'Brian"
Performances in various clubs of Montreal (Yellow Door Club, Coffee House)
1973-1978 Singer for the group "B.W. RAT"
Outdoor performances - Nun's Island (1976-1977-1978), secondary schools, private parties and various festivals
1975 Qualified for the Olympic Games of 1976 in amateur boxing
1975 First Winner of the Golden Gloves Award, Centre Paul-Sauvé, Montreal in amateur boxing
1973-1975 Intensive training in amateur boxing
1973-1974 Private vocal training classes with teacher John Bulhões
1971-1973 Singer for the group "José and Friends"
Performances in various schools of Montreal
1969-1974 Music classes – Father MacDonald High School from grade 8th to grade 12th, Ville Saint-Laurent, Quebec
Principal instrument: saxophone
1969 Arrival in Canada
1957 Born on April 22, in Maia, San Miguel, Azores, Portugal
* Invited guest artist as the main singer in various groups to replace other performers who cancelled their public appearances in various clubs and bars of Montreal and other places in the province of Quebec.
PERFORMANCES
2014 Balattou (October 29) "Cathy Pimentel and Friends" - Invited guest in Cathy Pimentel's "tour de chant", Festival Nuits d'Afrique
2014 Restaurant Chez le Portugais (June 20) - "Roots of Rock n' Roll and originals by Joseph Anthony B.", Mtl, QC
2014 Restaurant Chez le Portugais (May 23) - solo music, Mtl, QC
2014 Restaurant Chez le Portugais (April 26) - solo music, Mtl, QC
2012 Espace Le Cercle Carré - Centre de services de justice réparatrice, April 24 vernissage with Lucas Haneman, Old Montreal, QC
2010 Montreal All-Nighter, extracts of 2nd album « And the Angels Are Crying », Mtl QC
Galerie Lamoureux Ritzenhoff (February 27), Mtl QC
2009 Production of 2nd album « And the Angels Are Crying », Mtl QC
Galerie Lamoureux Ritzenhoff (February 28), Mtl QC
2008 Portuguese Santa Cruz church, (April 5) Mtl QC
2008 Portuguese Santa Cruz church, (April 4) Mtl QC
2008 Boîte à Marius (March 30), Mtl QC
2007 Galerie Lamoureux Ritzenhoff (May 12), Mtl QC
2007 Restaurant Chez le Portugais (March 31), Mtl, QC
2007 Filarmonica Portugesa Montreal Association (March 18), Mtl QC
2007 Restaurant Chez le Portugais (March 17), Mtl, QC
2007 Café Soho (March 1), Mtl, QC
2007 Restaurant Chez le Portugais (February 14), Mtl, QC
2007 Bistro de Paris (February 9), Mtl, QC
2007 Café Soho (February 1), Mtl, QC
2003-2004 Santa Cruz Church
2003-2004 Portuguese Associations (Hull, Montréal, Hochelaga)
2003-2004 Weddings
1996-1998 Bourbon Street West, West Island, QC
1996-1998 Mad Max, Mtl, QC
1992-1995 St.Thomas Café, Mtl, QC
1992-1995 Montreal various clubs and cafés
1987-1988 Cock & Bull, Mtl, QC
1987-1988 The Communs, Mtl, QC
1987-1988 La Cache, West Island, QC
1987-1988 The Lodge, Morin Heights, QC
1978-1986 Station 10 Bar, Mtl, QC
1978-1986 La Moustache, Mtl, QC
1978-1986 Camping St-Tropez, Ste-Mélanie, QC
1978-1986 Park View Club, Mtl, QC
1978-1986 Brasserie St-Léonard, St-Léonard, QC
1978-1986 Sahara Bar, Mtl, QC
1978 Yellow Door Café, Mtl, QC
1978 Coffee House, Mtl, QC
1978 Texas Brasserie, Mtl, QC
1973-1978 Nuns' Island Festival, Nuns' Island, Mtl, QC
1971-1978 Various High Schools
******************