Bozena Happach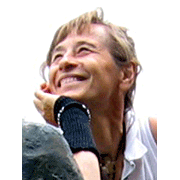 BOZENA HAPPACH

I trained at the College of Fine Arts in Gdansk, Poland, and thereafter, until 1981, studied sculpture under Elzbieta Szczodrowska, a sculptor who is best known for her monument entitled "Solidarity" in Gdansk. This extensive experience allowed me to explore a broad spectrum of figurative arts and resulted in a profound study of figurative as well as low-relief forms of expression. It also offered me a unique opportunity to collaborate with experts on large-scale sculptures.

In my three-dimensional stone sculptures, I search for a pure form which expresses only the raw and basics elements of my figures. In my bronze, metal and fiber-glass pieces, I search even further for this pure form in the movements of people and animals.

In fact, my sculptures illustrate the complexity and beauty of the human form. My intention is to represent the depth of the human endeavor and its foibles, as well as the journey of our physical and spiritual evolution.


My mission as an artist is to:

Provoke the imagination;
Help to live consciously and think freely;
Awaken to new ideas and technology;
Show that creativity is the most fantastic source of satisfaction;
Illustrate the potential of human imagination; and
Stimulate others to develop their own creativity.

My research is inspired by the dynamics of life, in other words, the impulse which drives and animates all living things.
Résumé
Born in Poland
Residence: Montreal, QC
EDUCATION
1963-1981 Study of sculpture in the studio of Elzbieta Szczodrowska
1963-1968 School of Plastic Arts, Gdansk, Poland
1963-1968 The Gdansk Polytechnic: Faculty of Architecture (1978) and Civil Engineering (1975)
COMPETITIONS
2013 Finalist for "Acts of Kindness", competition for digital images, Italy
2013 Finalist Kingsbrae Garden Sculpture Competition, NB
2011 Finalist Kingsbrae Garden Sculpture Competition, NB
2010 Finalist Kingsbrae Garden Sculpture Competition, NB
2009 Honorable Mention for Kingsbrae Garden Sculpture Competition, NB
Finalist for Competition for digital images "Arte/Musica", Italy
Nomination Award for Beijing Olympic Park City Sculpture Design Competition
Finalist for The Project of Historical Path at King Hussein Park, Jordan
2nd Prize at Le Centre de créativité du Gésu, Montreal, QC, Canada
1st Prize: Médaille du Prix de la Justice du Québec, QC, Canada
COMMISSIONED WORK
"Compassion", bronze for la Maison Jean Lapointe, Montreal, QC
"Frère et Soeur", fiberglass sculpture, private house, Knowlton, QC
"Brother and Sister", bronze sculpture, private commission
"Today & Tomorrow", fiberglass sculpture, private house, Montreal, QC
Mural sculpture, Château Ramezay Museum, Montreal, QC
Mural sculpture, International Education Institute, Calgary, AB
Stone sculpture, Logimex, Romania
COLLECTIONS
Claude-Jasmin Park, Boisbriand, Quebec, Canada
Centre of interpretation of nature, Boisbriand, Quebec, Canada
Kingsbrae Garden in St.Andrews, New Brunswick, Canada
Regional museum in Quebec, Galerie d'Outremont, Montreal, QC
Private collections in Canada, USA, South America, Europe and Hong-Kong
SOLO/ SEMI-SOLO EXHIBITIONS
2012 Sculpture Symposium, Boisbriand, QC
2009 Duo, Sculpture Symposium in white marble, Laval, QC
2009 L'Autre Monde, Sculpture Symposium, Laval, QC
2009 A temps perdu, Hudson, QC
2003 Cultural Center, Dorval, QC
2000 Polish Consulate, Montreal, QC
1996 Centre socioculturel de St-Hubert, QC
1996 Galerie d'art, Centre socioculturel de Brossard, QC
1995 "ENSEMBLE", Galerie d'art d'Outremont, Outremont, QC
1994 "DOUCE ET DURE", Gallery Octogone, Lasalle, QC
1993 "CHANGEMENT", Cultural Center, Dorval, QC
1992 RELATIONS", Regional museum, Vaudreuil-Soulanges, QC
GROUP EXHIBITIONS
2009-2016 Galerie Lamoureux Ritzenhoff, Montreal, QC
2010 L'Eau, Laval, QC
2010 Utopia, Laval, QC
2009 - L'Autre Monde, Laval, QC
2009 Duo - Noir et Blanc, Laval, QC
2009 Nature & Création, Domaine des Côtes d'Ardoise, Dunham, QC
2009 Kingsbrae Garden, St-Andrew, NB
2009 La Frisson, Maison des Arts, Laval, QC
2008 Le Caprice, Laval, QC
2008 La Sculpture dans tous les sens, Gatineau, QC
2008 ARTE MUSICA, Italy
2007 Un Jardin de pierre et de métal, Drummondville, QC
2007 Jazz, Vancouver, BC
2007 Pierre & Feu, Dorval, QC
2006, 2005 Monumental Sculptures Exhibition, St-Sauveur, QC
2006 Beijing Olympic Park City Sculpture, China
2006 Surviving, Thriving & Growing, Vancouver, BC
2006 Polish Consulate in New York, USA
2006 Rythme et Mouvement, Lachine, QC
2005 Castel, Ksiaz, Poland
2005 Château Ramezay Museum, Montreal, QC
2005 Centre d'Art, Ste-Rose, QC
2004, 2005 Village des Arts, Laval, QC
2003 Design 360, Savannah, Georgia, USA
1998 Le Centre de créativité du Gésu, Montreal, QC
1997 Festival d'Art, Orford, QC
1997 "CORPUS MOMENTUM", Salon CSQ, QC
1992 Polish Consulate, Montreal, QC
1990, 1991 Salon d'Épargne Placement, Montreal, QC
MEDIAS
2010 Canadascope Magazine, (May)
2009 Courrier Laval, Laval, QC (December 2)
2009 Press: "Le Droit", Gatineau, QC (July 25)
2009 Courrier Laval, Laval, QC (January)
2008 OttawaCitizen.com, Art & the City (July)
2008 Electronic press: Radio-Canada CBC - téléjournal d'Ottawa - Gatineau de Michel Picard (July)
2006 Polish Radio, interview, Montreal, QC (September)
2006 Publications: Cézanne's Carrot, A Literary Journal, Winter Solstice The Château Ramezay…Across Time through Artistic Eyes, Montreal, QCC
2005 "L'Écho loisir et culture", St-Jérôme, QC (October)
2005 "La Vallée", St-Sauveur, QC (October)
2003 "Gazeta", Montreal, QC (March)
1998 "Le Devoir", Montreal, QC (February)
1996 "Loisard", (January)
1996 "Actualité de Rive Sud", presentation of exhibition in St-Hubert, QC (December)
1995 "Actualité Outremont", presentation of exhibition, Outremont Gallery, Montreal (April)
1995 Outremont City, local press (March)
1994 City of Lasalle, local press (October)
1994 "Gazeta Montrealska" (October)
1993 Dorval, local press (February)
1992 Ville Vaudreuil - local press (January)
1991 "Nowy Dziennik" N.Y., U.S.A. (May)
1991 "La Presse" Montreal, QC (May)
1991 "Zwiazkowiec" Toronto, ON (June)
1991 "Le Nouvel à loi" (June)
PROFESSIONAL EXPERIENCE
1982-2002
Studies for big dimension sculptures
Extensive sculptural works in gesso duro, metal and stone
Practice in architecture in Montreal and Westmount, QC
1973-1981
Series of sculptures in clay, gypsum and metal
Conservation of historical buildings and sculptures in Poland
PROFESSIONAL AFFILIATIONS
RAAV Member (Regroupement des Artistes en Arts Visuels du Québec),
Atelier 213, CSQ, Montreal, QC
Conseil de la Sculpture du Québec – C.S.Q. - Quebec
******************