Francine Laurin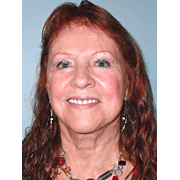 Francine Laurin was born in Ste-Scholastique, Mirabel, Québec. She graduated in Fine Arts and in Psychology from the University of Québec in Trois-Rivières. She did additional training in sculpture and glass at the Art Foundry Bourassa in St-Robert, Québec.

Francine Laurin expresses herself through painting and sculpture. She works in various media: bronze, blown-glass, polished metal, cement, resin, clay and acrylic. Being herself of Native American origin and having been married to a Native American Micmac, her art naturally illustrates her Native American roots. She says that her Amerindian roots are the reason why she is fascinated by the innate spirituality of Amerindian people. For Francine, harmony with nature is a sign of divine perfection. It is with love for Mother Earth and its creatures that she creates these images which depict the union between the one who exists and the one who shares the sacred circle of life.

Each of the artist's images was inspired by a special thought that she shares with us. She places it in our heart, so that each of us may live in abundance and peace.

Live each of her images with meditation… as they are her gift to each of us.

The artist was the winner of the Best Project Award for the creation of a trophy for the « Business of the Year » Gala, MRC Maskinongé, Québec, in 1990.
************************
Résumé
Place of Birth: Ste-Scholastique, Quebec
Currently resides in the Province of Quebec, Canada
STUDIES
1996 Ongoing training in sculpture, Art Bourassa Foundry, St-Robert, Quebec
1990-1992 Certificate in Psychology, University of Quebec in Trois-Rivières (U.Q.T.R.), Quebec - Sculpture and glass
1990 Bachelor in Fine Arts, University of Quebec in Trois-Rivières, Quebec
1987 DEC in Fine Arts, CEGEP Joliette de Lanaudière, Quebec
1984 Drawing and painting, Community Centre, Rawdon, Quebec
1981 Painting, Community Centre, Laval-des-Rapides, Quebec
1980 Drawing, Art Centre, Deux-Montagnes, Quebec
1970 Painting Class, Art Centre, St-Eustache, Quebec
MEDIA USED IN PAINTING:
Acrylic, crayon, charcoal, oil, pastel
MEDIA USED IN SCULPTURE:
Bronze
Blown-glass
Polished metal
Cement
Resin
Clay
Acrylic
SOLO EXHIBITIONS
2009 Félix Leclerc Center, Native Indian exhibition La Tuque, Quebec
2007-2008 L'App'Art Gallery, Trois-Rivières, Quebec
2007 Maison Trestler, Vaudreuil, Quebec
2007 Léon'Art Gallery, St-Léon-le-Grand, Quebec
2006 Symbole Art Gallery, Montréal, Quebec
2006 Berick Gallery, Bromont, Quebec
2005 Maison du Notaire, Trois-Pistoles, Quebec
2005 Maison Antoine-Lacombe, Joliette, Quebec
2003 Maison de la culture amérindienne, St-Hilaire, Quebec
2003 Ursulines Museum, Trois-Rivières, Quebec
2003 La Pierre angulaire, St-Élie-de-Caxton, Quebec
1995 La Pierre angulaire, St-Élie-de-Caxton, Quebec
1994 Clémantine Restaurant, Louiseville, Quebec
1993 City Hall, Louiseville, Quebec
1991 Coffee Shop/Bar L'Embuscade, Trois-Rivières, Quebec
GROUP EXHIBITIONS
2007 Le Dragon Gallery, Mons, Belgium
2007 Clark Gallery, Naucelles, France
2007 Jeanlin Gallery, Espéranza, France
2005 Soleil Gallery, Virton, Belgium
2003 Atelier D-Sy, Bruxelles, Belgium
2002 Du Dragon Gallery, Mons, Belgium
2002 Le Miroir Gallery, Mont-sur-Marchienne, Belgium
2001 Jeanlin Gallery, Guisson, France
2001 Center of Wisdom for Native Indian, Bruxelles, Belgium
2000 Native Indian Museum, Recogne, Belgium
1998 Alti Fagi Gallery, Hauts-Pays, Belgium
1995 Cultural Centre, Philippeville, Belgium
1995 Cultural Centre, Montigny-le-Tilleul, Belgium
1995 Thy-le-Château Castle, Thy-le-Château, Belgium
1992 Cultural Centre, Soisson, France
AWARDS
1990 Chamber of commerce of the MRC of Maskinongé: Winner of the Best Project for the creation of the trophy awarded at the «Business of the Year » Gala
BIBLIOGRAPHY
Francine Laurin. « La Vie des amérindiens », 2004
ASSOCIATIONS
2006 Founder of the Léon'Art Gallery, St-Léon-le-Grand
1997 Member of the group Artémise de Gounies, Belgium
1993-1998 Vision des arts de Louiseville, Louiseville, Quebec (Founder Member)
1995 Association of Quebec Painters
1993 Founder of the Élan de St-Alexis-des-Monts Gallery, Quebec
1993 Member of the group Entr'Artistes, Trois-Rivières, Quebec
OTHER PROJETS
2000 Planning and management of the artists' exhibitions at the Art Gallery of Marcelle Ferron, Louiseville, Quebec
1999 Conception and distribution of a calendar for collection - Year 2000
1987-1989 Teaching Painting at Maskinongé - Organizing students' exhibitions, Louiseville, Quebec
1983-1986 Conception of the Coop Café des artistes, Louiseville, Quebec
**************