Tanya Kirouac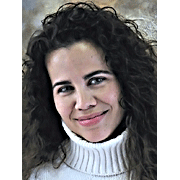 Although currently making her life in the "beach" neighborhood of Toronto, Tanya was born in Montreal, Quebec. Educated in the Applied Arts, Tanya has worked as an Art Director and Graphic Designer for over 16 years. After Reintroducing herself to the fine arts through classes at the Art Gallery of Ontario (AGO) and the Toronto School of Art over 6 years ago, Her passion for painting was re-ignited.

General Statement

"I am an encaustic painter deeply rooted in the visual language of landscapes and the natural world. Similar to the way nature builds up and washes away what it creates, I apply and remove layers of wax. Possibilities Which Had to be discovered yet rise and make themselves apparent. This process allow me to Develop complex images in relief.

Encaustic has an inherent opacity. This quality creates transparency Which mirrors the fragility of our world. These transparencies give the completed works an almost dreamlike finish. A reminder of the possibility that the objects of my inspiration can be fleeting and might one day exist in my memory "

Statement: blossoms

"This series grew from an exploration of the color and its pink tones and hues That had up to that point eluded my palette. The process of this exploration opened a door and Began a rejuvenation of my work.

Spring is a time of re-birth, as The blanket of winter dissipates and our earth is exposed again. Similar to how reassertion life itself, the process of layering, firing and scraping away the promise of what lies beneath. This process mirrors the fleeting beauty and delicate offerings that give way to things to come when the blossoms arrived.

Carving away the excess wax and engenders both possibilities. Each of these clumps of wax scraped is kept to be rejuvenated into future works. Each of these pieces acting as fertilizer for new ideas and visions.

The medium taxed itself into the work, a combination of waxes and resin that Allows for sculptural and textural explorations. It is these things Which Exert Their intense subtlety upon the viewer. "
Tanya Kirouac - 2008
Résumé
Place of birth: Montreal, Quebec
Year of birth: 1969
Studies
2007 Life painting, Toronto School of Art , Toronto, ON
2001-2003 Painting / Life drawing, Art Gallery of Ontario (AGO) , Toronto, ONIllustration
1987-1990 / Applied Arts, Dawson College , Montreal, QC
1986-1987 Creative Arts, Foundation Studies, Dawson College , Montreal, QC
MAIN SOLO EXHIBITIONS
2010 Feature Artist, Arts On King, King Street East, Toronto, ON
2009 "Balzac's" Disitllery District, Toronto, ON
2009 "SOLO Exhibit" Petroff Gallery , Toronto, ON
2008 "Lost & Forgotten Places Gardens, Wallspace Gallery , Ottawa, ON
2008 "Feature Artist" Arts Gallery on King , Toronto, ON
2007 "Out West", Keystone Gallery , Calgary, AB
2006 "Across the Sky", Hangman Gallery , Toronto, ON
2005 "Surfacing", Bertossini Gallery , Toronto, ON
2005 "Salon Show", Hosted by Ron Fletcher, Toronto, ON
2004 "Across the Surface," Gallery 888 , Toronto, ON
2004 "Wandering the Surface", The Gallery Wall , Toronto, ON
2003 "View of the Wall," Barrio Lounge , Toronto, ON
2003 "View from the Road, Gallery 888 , Toronto, ON
2003 "Winter", Tango Palace , Toronto, ON
MAIN GROUP EXHIBITIONS
2009-2011 Lamoureux Ritzenhoff Gallery, Montreal, QC
2011 "The Artist's Project", Exhibition Place, Toronto, ON
2010 "One of a Kind" - Show and Sale, Exhibition Place, Toronto, ON
2010 "Glanzichter" Holiday Show, Halde Galerie, Widen, Switzerland
2010 AGH Holiday Show, Hamilton Art Gallery, Hamilton, ON
2010 "Prince Edward County Studio Tour", Prince Edward County, Picton, ON
2010 "Toronto Outdoor Art Exhibit", Nathan Philips Square, Toronto, ON
2010 "Feature Artist", Arts on King, Toronto, ON
2010 "Waxing Poetic, an encaustic show", Alton Mill, Caledon, ON
2010 "Large Art Show", In2art, Church Street, Oakville, ON
2010 Group Exhibit, The Alton Mill, Queen Street West, Alton, ON
2010 "The Artist'S Project" Exhibition Place, Toronto, ON
2009 "New York Art Expo, Javits Center , New York, NY
2008-2009 "One of a Kind - Show and Sale" Exhibition Place , Toronto, ON
2009 "Discoveries" Delevan Gallery, Syracuse, New York, USA
2009 "Prince Edward County Studio Tour" Prince Edward County, Picton, ON
2008 "Pink - Fundraiser for Breast Cancer", Soho Myriad , Atlanta, GA, USA
2008 "White Night 2008", Fuse Studio - Exhibit Secrets , (juried) Toronto, ON
2008 "Feature Artist" Level Gallery , Collingwood, ON
2008 "Prince Edward County Studio Tour, Studio Kirei Samuel , (juried) Picton, ON
2008 "Muskoka Arts & Craft Show & Sale", Annie Williams Memorial Park , (juried) Bracebridge, ON
2008 "Toronto Art Expo," Metro Toronto Convention Center , Toronto, ON
2007 "Holiday Show and Sale", Gallery 888 , Toronto, ON
2007 "One of a Kind - Show and Sale", Exhibition Place , Toronto, ON
2007 "Prince Edward County Studio Tour, Studio Mackay , Picton, ON
2007 "Art in the County" - Picton Town Hall , Picton, ON
2007 "By Chadsey\'s Cairns Winery & Vineyard, Wellington, ON
2007 "Pink - Fundraiser for Breast Cancer", Soho Myriad , Atlanta, GA
2007 "Art in the Park", Central Park in the Glebe , Ottawa, ON
2007 "Toronto Art Expo, Metro Convention Center , Toronto, ON
2007 "Salon Show", Propeller Gallery , Toronto, ON
2007 "11", Propeller Gallery , Toronto, ON
2006 "Festive Season Show, Gallery 888 , Toronto, ON
2006 "Home and Style Studio Tour, HIV and AIDS Fundraiser, Drip Studio , Toronto, ON
2006 Queen West Art Crawl, Trinity Bellwoods Park , Toronto, ON
2006 "Art in the Country", Picton, ON
2006 "Wax Works - Group Exhibit, Galerie Sandra Goldie , Montreal, QC
2006 "The Riverdale Artwalk" Carlaw Avenue , Toronto, ON
2005 "Give a Little Bit, Art Show and Sale", Gardner Douglas Space , Toronto, ON
2005 "Element", Lennox Contemporary , Toronto, ON
2005 "Toronto Outdoor Art Exhibit, Nathan Philips Square , Toronto, ON
2005 "The Riverdale Artwalk" Bertossini Gallery , Toronto, ON
2005 "Toronto Art Expo, Metro Convention Center , Toronto, ON
2004 "Give A Little Bit: Art Show and Sale, Toronto, ON
2004 "Summer", Wagner Rosenbaum Gallery , Toronto, ON
2004 "Field Trip", OCAD Gallery , Toronto, ON
2004 "The Lasting Inspiration" Praxis Gallery , Toronto, ON
2004 "The Riverdale Art Walk, Gallery 888 , Toronto, ON
2004 "Toronto Art Expo, Metro Convention Center , Toronto, ON
2003 "Toronto Inspiration" Praxis Gallery , Toronto, ON
2003 "Group Exhibition", Cooper Gallery , Toronto, ON
2003 "The Distillery; Art Show and Sale, The Distillery District , Toronto, ON
2003 "Riverdale Art Walk, Toronto, ON
OFFICIAL RECOGNITION
2007 "Ontario Arts Council, Exhibition Assistance Grant
DONATED ARTWORK
2008-2009-2010 "Whodunnit?" OCAD Mystery Art Sale , Toronto, ON
2009 "Yes, Indeed, Art Auction," Fundraiser for Youth Employment Services , Toronto, ON
2008 "Art of Flight" Fundraiser Show and Sale , Picton, ON
2007 "The Little Art Show", Silent Auction to support The RAW , Toronto, ON
2007 "Friends of Sandbanks" r Fundraise Show and Sale , Picton, ON
2007 "Varley Gallery, Fundraiser for the Varley Gallery , Newmarket, ON
2007 "Salama Shield Foundation, Fundraiser for AIDS in Africa, Toronto, ON
2006 "Gilda's House," Fundraiser for Cancer Patients, Toronto, ON
2006 "Little Art Show, Fundraiser for The RAW , Toronto, ON
2006 "Whodunnit?" OCAD Mystery Art Sale , Toronto, ON
2006 "Friends of Sandbanks" Fundraiser Show and Sale , Picton, ON
2006 "Picton Rotary Auction / Fundraiser" Live Auction Featured Artist , Picton, ON
2005 "Whodunnit?" OCAD Mystery Art Sale , Toronto, ON
2005 "The Little Art Show, Silent Auction to support The RAW , Toronto, ON
2004 "The Little Art Show, Silent Auction to support The RAW , Toronto, ON
2004 "Art for Life", Sunnybrook Women\'s Hospital Fundraiser , Toronto, ON
2003 "The Little Art Show, Silent Auction to support The RAW , Toronto, ON
PRESS
Jan. 2011, Feature on HGTV Canada Income Property
Jan. 2011, Blog Feature, Daily Distillery Blo
Winter 2010 Issue, Artist Profile, Prince Edward County Magazine
Oct. 2009 The Post-Standard, Syracuse, NY - "Discoveries" Review
Sept. 2009 City Eagle, Syracuse, NY - "Discoveries" Review
Summer 2009 Parcour Magazine, New Generation Arists
2008 Canadian House & Home Magazine , Makeover of the month / Artwork, October
2008 Watershed Magazine , Artist Profile, Summer 2008
Spring 2008 Prince Edward County Magazine Cover Image
March 2006 The Designer Guy III - Featured Artwork-Television
Nov. 2005 TFO / PANORAMA - Featured Interview - Francophone Television
Nov. 2005 CBC Radio / Art Report - Interview - Francophone Radio
May 2003 CityTV / Breakfast Television - Interview for RAW 2003
AFFILIATIONS
CARFAC, Toronto, ON
Artist's Network of Riverdale , Toronto, ON
Prince Edward County Arts Council , Picton, ON
International Encaustic Artists , USA
OTHER EXPERIENCE
2003-2009 Professor, Seneca College - graphic training in digital mediums
1990-present Art Director and Graphic Designer - Combining traditional experience with digital mediums
COLLECTIONS
Ritz Carlton, San Francisco, California, USA
AJ Adolph-Drs Davey, Adolph & Browne, Lethbridge, AB
R.H. Davis & Co. Ltd., Yarthmouth, NS
University of Montreal, Medicine Faculty, Montreal, QC