Elizabeth Merei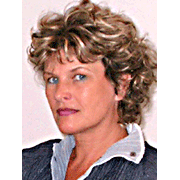 Elizabeth Merei, a Hungarian born artist, came to Toronto, Canada, in 1972 where she currently lives and works. Growing up in Szombathely, a city with a 2,000 year old history, made a lifelong impression on her. Observing the silent remnants of the past reminded her of the hidden mysteries of times gone by.

In 1979, she carved her very first sculpture in stone and it became her ultimate form of expression. Elizabeth has a keen interest in the human form which embodies beauty, spirit and harmony. "I try to express joy, anger, sadness and the human experiences that fall between."

Carving directly into the stone without models or maquettes, using the natural stone with its imperfections and sudden temper became an ongoing challenge. Her work is easily recognizable with its tension between smooth and rough surfaces. Her sculptures exude a sensuality that is as prevalent in an abstract form as in a classical figure.

"Carving to me is such an unconscious act; I don't plan, I feel. It is a very tactile exploration of the material, almost as if I am waiting for it to tell me what it wants to be. Each stone has its unique, distinct personality, its inner essence and spirit and each represents a new challenge. Passion fuels her art, as seen in her piece Everest. "It is very emotional. It came to me after reading Jon Krakauer's book, Into Thin Air. The courage and struggle of the climbers described in the book touched me deeply."

A self taught artist, "Merei's most impressive pieces are firmly linked to the Western classical tradition." She has been exhibiting her work in Canada, the USA and abroad since 1984 and served as an executive of the Sculptors Society of Canada for eighteen years. Several private and corporate collections include her work.

It is the nature of all artists to explore, to push the boundaries, not just of their art, but of themselves. For Elizabeth, it also meant returning to an early love: painting.
E.M., 2008
Résumé
Place of birth: Szombathely, Hungary
Year of birth: 1951
MAIN SOLO EXHIBITIONS
2009 "ART 09", International Art Fair - Celebrating 25 years sculptures and paintings, Toronto, ON
2003 "Les Femmes", Studio Show, Toronto, ON
2002 "Endeavors", Paintings, drawings and sculptures, Studio Show, Toronto, ON
2000 "Studio Tour 2000", North York, ON
2000 "Passion", Studio Show, Toronto, ON
1999 "Inspiration", Studio Show, Toronto, ON
1995 "Impressions in Stone", Sculptors Society of Canada Gallery, Toronto, ON
1992 "Sculptures by Elizabeth Merei", Kitchener/Waterloo Art Gallery, ON
1988 "Canadian Opera Company Exhibit", O'Keefe Centre, Toronto, ON
1984 "Stone and Bronze", Bergamo International, Toronto, ON
TWO PEOPLE EXHIBITIONS
2008 Lamoureux Ritzenhoff Gallery: "Story Within" with artist Chantal Lavoie, Montreal, QC
2007 "Gods and Goddesses", Canadian Sculpture Centre, ON
2004 "Vamps Vixens Virgins", Canadian Sculpture Centre, ON
1995 "National Ballet Nureyev Gala", O'Keefe Centre, Toronto, ON
1987 "Premier show", Gallery Rochon, Toronto, ON
MAIN GROUP EXHIBITIONS
2006-2011 Lamoureux Ritzenhoff Gallery, Montreal, QC
2011 SCA 43rd Open National Juried Exhibition Todmorden Mills, Papermill Gallery, June 15-June 25
2011 "Heart of the Matter", "Face Forward", Canadian Sculpture Centre, Toronto, ON, Feb.-April
2009 "I Am a Rock", "Hot Stuff", "Face to Face", Earthlink SSC, Toronto, ON, March-July
2008 "Autumn Leaves", Todmorden Mills Gallery, Hungarian Visual Artists of Canada, Oct.
2008 "Sculpt Art", Royal Botanical Gardens, Hamilton-Burlington, ON, Sept.-Nov.
2008 The Sculptors Society of Canada presents... 80th Anniversary Members exhibition, John B. Aird Gallery, Sept.
2007 "Diversity", Society of Canadian Artists - 50th Anniversary, ON
2006 Art Gallery of North Humberland Exhibit, Cobourg, ON (SCA)
2006 "1956 Hungarian Revolution Anniversary Exhibit", Toronto City Hall, Metro Toronto Hall, ON
2006 "Figurative Sculptors of Ontario", Toronto, ON
2005 "Windows", Canadian Hungarian Cultural Collective Exhibit, Montreal, QC
2003 "Celebrating Creative Life", Todmorden Mills Heritage Museum – Sculptures and Paintings, Toronto, ON
2003 Society of Canadian Artists Exhibition, Humming Bird Centre, Toronto, ON
2001 Hungarian Visual Artists of Canada, Budapest, Hungary
2001 Toronto International Art Fair, (SSC)
2000 "Millenium Show", Nielsen Park Creative Centre, Mississauga, ON (HUVAC)
1997 Aspen Fine Art Gallery, Aspen, Colorado, USA
1993 65th Anniversary National Touring Exhibition of the Sculptors Society of Canada, ON
1989 "International Art Exhibit" – Ravenna, Italy
1988 "Challenge and Tradition", SSC 60th Anniversary Exhibition, John B. Aird Gallery, Toronto, ON
1986 "The Exhibition of Contemporary Canadian Sculpture", Ernst Museum, Budapest, Hungary
1985 "Sculpture Now", Metropolitan Toronto Library, ON
ASSOCIATIONS
2004 Canadian Hungarian Cultural Collective
2003 Society of Canadian Artists
1999 Hungarian Visual Artists Collective
1984 Sculptors Society of Canada
COLLECTIONS
Coogan Corporation
Stafford Textile
Osler Wills Bickle
Ram Forest Lumber
Osler Hoskins
New Image Property
Ram Forest Products
Canadian Broadcasting Corporation
Arthur Anderson
National Beauty Supply
Canadian Imperial Bank of Commerce