Chantal Lavoie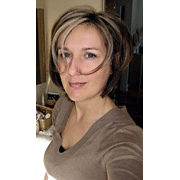 The essence of all my inspiration is drawn from within the body. I search its history, its life story; retracing furrows in the present, the past and before. The marks which codify and individualize it. To seize the unspoken word of the model, interpret it in a self as much as personal as universal. I search for the silent enigma, the quintessence and reveal it in a graphic language where lines and forms cross over from one extreme to another between real and imaginary.

I try to seize the ephemeral by transparence. Bodies and earth melt together to form sfumato, scale of hope, of future... The horizon, life-line between sky and earth, unifies the truth of reality and locates, with just enough perspective, those souls in search of eternity.

There is constant rivalry in my creative process between knowledge and being. The source of my influence draws from classicism but the composition, the use of mixed media and the general presentation of my work are all taken within a contemporary approach.

Say more with less... the struggle continues and stimulates my desir for expression, essential to create.
Chantal Lavoie
Résumé
Born in Montreal, Quebec in 1967
Studies
2002 Bishop's University – Fine Arts Studio
1999-2000 Academy of Arts and Fine Arts – Composition, drawing, history, live models, landscape
1993-1999 Artisans du meuble québécois – Design Mention
1984-1987 Marie-Victorin College – College Degree Specialized Education
Medium
Mixed-media on canvas (Collage, Acrylic, Charcoal, Oil)
Solo Exhibitions
November 23 - October 6 2009 Galerie MX, "Between the Lines", Montreal, QC
April 23 - May 6 2008 Lamoureux Ritzenhoff Gallery, "A story within", Montreal, QC
May 16 - 28 2008 Terence Robert Gallery, "It doesn't matter how the paint is put on, as long as something is said", Ottawa, ON
Group Exhibitions
2006-2011 Lamoureux Ritzenhoff Gallery, Montreal, QC
March - May 2010 Guest artist ROCCIA Gallery, Montreal, QC, Canada
December 2008 Make-A-Wish Evening, MX Gallery, Montreal
December 2007, Galerie MX, Chritmas 12 x 12 event, Montreal, QC
December 2007, Las Olas Fine Arts, "Christmas 12 x 12 event", Fort Lauderdale, FL, USA
June 2007 Galerie MX, "Rendez-Vous", Montreal, QC
Marcj 2006 Las Olas Fine Arts, "Strawberries - Champagne", Fort Lauderdale, FL, USA

Permanent Exhibitions
Lamoureux Ritzenhoff Gallery, Montreal, QC, Canada
Las Olas Fine Arts Gallery, Fort Lauderdale, FL, USA
Lincoln Road Fine Arts, Miami, FL, USA
Déjà Vu Gallery, South Beach, FL, USA
Corporate Collections
Canbec Constructions Inc., Lachine, QC, Canada
Deman Design, Montreal, QC, Canada
Alyn Simard Audio, Montreal, QC, Canada
Events
December 2008, Charity fund raising for Make-A-Wish Foundation
Media Coverage
Gauthier, Isabelle. "À la galerie MX: Corps universels" in Parcours, vol.14 no.3, Autumn 2009, p.80-83, Montreal, QC, Canada
Bernier, Robert. "Chantal Lavoie: Corps Intime" in Parcours, vol.14 no.2, Spring, Summer 2009, p.68, Montreal, QC, Canada
Lungu, Florentina, B.A, M.A. "Chantal Lavoie: Traces - Histoire en soi" in Vie des Arts, vol.210, Spring 2008, p.86-87, Montreal, QC, Canada
Bernier, Robert. "Chantal Lavoie: Le paysage de ton corps" in Parcours, vol.11 no.4, January, February 2006, p.36, Montreal, QC, Canada
Bernier, Robert. "Chantal Lavoie: Les états du corps!" in Parcours, vol.11 no.2, August, September 2005, p.70, Montreal, QC, Canada
Publications
2009 Make-A-Wish Calendar