Carlo Cosentino, P.S.C., I.A.F.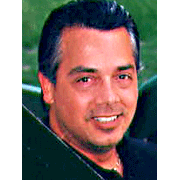 Carlo Cosentino, P.S.C., I.A.F. was born in Montreal in 1958 and knew since he was five years old that he was going to be an artist. He took art classes at Studio Salette in Montreal and later completed a D.E.C. in Illustration-Drawing at the CEGEP of Ahuntsic. He did further training by doing internships with well known artists Mike Fuller, Mike Stockdale and Mitchel Kotansky.

Carlo Cosentino developed his talent for art by working as a commercial illustrator and, progressively, as a painter. He now explores oil painting, watercolour, pastel and bronze sculpture.

Since 1990, he has been awarded numerous international prizes in Canada and the United-States. He exhibits regularly on both sides of the border. His works are part of important corporate collections such as Imperial Tobacco, IBM Canada, The Gilles Villeneuve's family, Seagrams, etc…

Résumé
Born in Montreal in 1958 and living in Montréal.
Art Formation
1990 Apprenticeships with Mitchell Kotansky, sculptor
1980-1985 Apprenticeship with artists Mike Fuller and Mike Stockdale
1979-1981 Cegep Ahuntsic, Illustrations, Montreal, QC
1976-1977 Studio Salette, Montreal, QC
Group Exhibitions
2011 International Salon, San Antonio, TX, May
2011 25th Anniversary - Institute of Figurative Arts, Lévis, QC, May
2011 Symposium at Pierre Séguin Gallery, Ile-Perrot, QC, June
2003-2013 Lamoureux Ritzenhoff Gallery, Montreal, QC
2009 Symposium International Jean-Paul Lapointe, Chicoutimi, QC,
2008 Greenhouse Gallery, San Antonio, TX, USA
2007 Carmel, California, USA
2005-2007 Greenhouse Gallery, San Antonio, Texas, USA
2005 Salon International 2005, San Antonio, Texas, USA
2005 Symposium of the Arts, Notre-Dame-de-l'Île-Perrot, QC
2004 Symposium of the Arts, Notre-Dame-de-l'Île-Perrot, QC
2003 Museum of American Illustration, New-York, USA
2003 Rendez-Vous des Arts, Sainte-Geneviève, QC
2003 Marshall Clark Gallery, Vancouver, BC
2003 Le Grand Symposium d'Art de Québec
2002 Museum of American Illustration, New-York, USA
2001 Couleurs d'Art 2001, Montreal, QC
2001-2003 Rendez-vous des arts, Ste-Geneviève, QC
1999 Galerie Claude Brocard, Prévost, QC
1997 Art Expo, New-York, USA
Solo Exhibitions
2010 Lamoureux Ritzenhoff Gallery, Montreal, QC, Canada - Autumn Salon
2005 Gallery Pierre Séguin, Notre-Dame-de-l'Île-Perrot, QC
2002 Espace Adagio, Delta, Montreal, QC
2001 Galerie Pierre Séguin, Île-Perrot, QC
1997 Galerie Claude Brocard, Prévost, QC
1995 Art Expo, FCB Building, Toronto, ON
1991 Hotel Shangrila, Montreal, QC
Public and Private Collections
Alarm Force, Toronto, ON
Impact Montreal (Soccer Team), Montreal, QC
CGI, Montreal, QC
Imperial Tobacco, Montreal, QC
Celanese Canada
The Montreal Expos
Montreal Chamber of Commerce
IBM Canada
Children's Dream Foundation Québec
Gilles Villeneuve
Kohl Frisch Family
André Dawson
Seagrams, QC
Dr. André Wilson
Mr. Roberto Manago
Carlson Marketing Group
St-Joseph Oratory of the Mount-Royal
Industrielle Alliance Québec
Honors
2011 Lauréat selected by the Fondation Colas, Paris, France
2010 Canadian Brushstroke Magazine - Finalist
2009 Canadian Brushstroke Magazine - Finalist
2008 Canadian Brushstroke Magazine - Finalist
2008 Named Member of the "Portrait Society of Canada" - P.S.C.
2007 Price for exceptionnal contribution: "Prize for Community Services Voluntary" given to Gisèle Laberge and Carlo Cosentino, Montreal, QC
2007 The Artist's Magazine 24th Annual Art Competition - Finalist in "Landscape category" - work "Looking West on St.Paul Street", Cincinnati, OH
2007 Supervisor for the creation of the group piece at: "Fête: Dehors les artistes!», presented by Galerie Pierre Séguin, Ile-Bizard, QC
2007 Impact Montreal - Soccer Team owned by Mr. Saputo: a work on order representing "Grant Needham"'s portrait to honor the player, Montreal, QC
2006 Impact Montreal - Soccer Team owned by Mr. Saputo: four works on order to honor players, Montreal, QC
2005 International Artist's Magazine - Finalist in "Landscapes"- work "Sunday's Game"
2005 International Artist's Magazine - Finalist in "Portrait" - work "Mimishka"
2004 Artist's Magazine 21st Annual Art Competition - Finalist
2004 Directory of Illustration & Design RSVP - Finalist
2004 International Artist's Magazine - 3rd place - Award of Excellence
2004 Communication Arts - Two Awards - Award of Excellence
2003 Artist's Magazine - Finalist
2003 Applied Arts Magazine - Award of Excellence
2003 Communication Arts (Montreal Port 3) - Award of Excellence
2002 The Society of Illustrators, New-York - 2 Awards of Excellence
2002 International Artist Magazine - Finalist
2002 Artist's Magazine - Finalist
2002 Applied Arts Magazine - Award of Excellence
2002 Applied Arts Award annual - Award of Excellence
2002 The Society of Illustrators, New-York - Award of Excellence
2001 Communication Arts - Award of Excellence
2001 Artist's Magazine - Finalist
1999 ACPIC - Merit Award
1997 ACPIC - Merit Award
1994 Artist's Magazine - Award of Excellence
1992 ACPIC - Merit Award
1991 ACPIC - Merit Award
1990 ACPIC - Merit Award
TV Appearances - Interviews
2010 Interview at RDI - Radio-Canada International - weekend with Louis Lemieux, Nov. 7
2010 Launching of the art book "Lumières de Montréal-Lights of Montreal", Nov. 11 at Galerie Lamoureux Ritzenhoff, Montreal, QC
2010 Invited artist at the launching of the art book "Lights of Montreal", Nov. at Salon du livre de Montréal, QC
2010 "Carlo Cosentino, I.A.F., S.P.C.: Le Poète de la lumière", Parcours art magazine, no. 70
2010 Publicity in La Presse and The Gazette, Nov. 6
2005 Cités Nouvelles, article by Valérie Schiltz, May 15, p. 29
2005 Journal de Montréal, article by Rodger Brulotte, March 25, p. 52
2004 Presentation for the Montreal Expos at the Olympic Stadium of four paintings and four bronze sculptures of the famous Dennis Martinez, Bob Bailey, Rodger Brulotte and Ron Piché for the Hall of Fame
2004 Journal de Montréal, article by Rodger Brulotte: "Tout Partout en Ville", p. 42, July 27 about the paintings for the Hall of Fame for the Montreal Expos at the Olympic Stadium
2004 International Artist Magazine, No. 35 featured article entitled «Seizing Sales Opportunity» written and produced by Carlo and published in Feb.- March 2004, 10 pages
2003 Presentation for the Montreal Expos at the Olympic Stadium of a painting and bronze sculpture of Mr. Jacques Doucet, Baseball commentator, Hall of Fame: June 28, 2003
2003 Magazin'Art, "Carlo Cosentino: A One Man Band", Amélie Ménard, Spring 2003, Issue #59, 4 pages interview
2002 Global, Sportivi in Diretti, TV interview, Montréal, QC
2002 RDS, TQS, presentation of a painting (scenes of Montreal) for the Montreal Expos player of the year "Orlando Cabrera"
1994 CFCF 12, Pulse
1993 CBC and RDS
1991 CFCF 12, CBC, RDS