Tania Lebedeff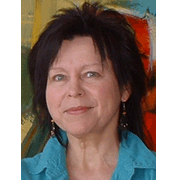 Tania Lebedeff was born in Germany in 1949. She received a diploma from the Massachusetts Southern University in 1989, a Bachelor of Arts Education of the UQAM - University of Quebec in Montreal - in 1971 and a diploma from the School of Fine Arts in Montreal in 1970.

Tania Lebedeff's pictorial quest pursues and favours a creative process where constant transformation plays a crucial role. She is driven by an insatiable curiosity to discover deep resonances within herself. She creates images that liberate the viewer's eye of its usual alienating conditioning.

Tania Lebedeff eliminates all that is too well-known, guiding the viewer on the cusp of the visible and the invisible, the known and the unknown. Every work is in turn a probe, a reflection, a question, a mystery.

The artist explores a gestural freedom in rich, vibrant, figurative or abstract compositions contained within or streching beyond the frame. Her works are an expression of life, its chaos, its rhythms, its contradictions and enigmas.

Tania Lebedeff received the First Prize in painting at the Table culturelle de la Vallée du Richelieu in 2000 and an Honorable Mention at the Demidoff Foundation in Montreal in 1998. In 2002, her work was selected for an exhibition in Tokyo and in Mishima, Japan, before being presented at the Museum of Mont-St-Hilaire, Quebec.
Résumé
Place of Birth: Germany
Date of Birth: 1949
Currently residing: Quebec, Canada
Professional since: 1971
Studies
1989-90 UQAM
Different seminars in painting and mixed media two-and three-dimensional procedures
1987-89 Southern Massachusetts University
"Drawing from Within" Principles and Practices for Leaders (1989)
"Drawing from Within" (1987)
1983-84 Saidye Bronfman Centre
Painting 1970-71
UQAM
B. A. (Major in Fine Arts Education)
1966-70 Montreal School of Fine Arts
Diploma (Engraving)
Awards
2008 Audience Award Creation on the field , Land Art, Mont St-Hilaire, QC
2006 Audience Award Expo Museum of Mont St-Hilaire , Mont St-Hilaire, QC
2001 1st Prize - Painting - itinerant exhibition of the Cultural Table of the Richelieu Valley
( Gault House , Mont-Saint-Hilaire Saint-Basile-Le-Grand Library; Chambly Library, QC
1998 Honourable Mention, Demidoff Foundation , "Russian Winter", Desjardins Complex , Montreal, QC
Solo Exhibitions
2008, Lamoureux Ritzenhoff Gallery, Montreal, QC, Canada
2007 "Frontiers of the Invisible" ART'O, Saint-Jean-sur-Richelieu, QC, Canada
2001 Credit Union, Saint-Hyacinthe, QC, Canada
2000 Arts Station , "Return from the Islands", Mont-Saint-Hilaire, QC, Canada
1999 Arts Station , "I am Pictures, Mont-Saint-Hilaire, QC, Canada
1998 1040 Gallery , "Passages", Montreal, QC, Canada
Group Exhibitions
2003-2011 Lamoureux Ritzenhoff Gallery , Montreal, Quebec
2011 "Parle-moi d'amour", Les Impatients, Montreal, QC, Canada
2010-2011 Lessedra Art Gallery, International art competition - Painting and Mixed Media, Sofia, Bulgaria
2007-2010: "Large Size" , "Blanc & Noir", etc., Saint-Jean sur-Richelieu, QC, Canada
2005-2010 Mont Saint-Hilaire: "Fugue in major art" , Mont Saint-Hilaire, QC, Canada
2009-2010 Ecomuseum Fier World , Montreal, QC, Canada
2009 "Collective Art Point Valaine" , Otterburn Park, QC, Canada
2009 Cultural Centre of Beloeil, "Arguments" , Beloeil, QC, Canada
Eve 2008 Fountain Gallery, "Next year for all" , Saint-Hyacinthe, QC, Canada
2007 "Festival of the Arts, Saint-Basile-le-Grand, QC, Canada
2005 Mont-Saint-Hilaire Art Museum , "Art for All", QC, Canada
2005 Socio-Cultural Centre of Brossard , Brossard, QC, Canada
2005 Arts Station , "Art Major Fugue," Mont-Saint-Hilaire, QC, Canada
2003 Mont-Saint-Hilaire Art Museum , "Art for All", QC, Canada
2003 Center for the Visual Arts of St-Hubert , "Exhibition-contest", St-Hubert, QC, Canada
2003 Arts Station , "Art in small sizes", Mont-Saint-Hilaire, QC, Canada
2002 "MMAC Festival" (mixed media & communication), Tokyo and Mishima, Japan
2002 Mont-Saint-Hilaire Art Museum , "Artists Exhibit Themselves", QC, Canada
2002 "Biennale of Miniature Art, drawing, Ville-Marie, QC, Canada
2002 Symposium of Saint-Charles-sur-Richelieu , "Painting Takes Air, QC, Canada
2002 Symposium of Iberville-sur-Richelieu , "Life ... Art ... Passion, QC, Canada
2002 Maison Paul-Émile Borduas , collective exhibition, Mont-Saint-Hilaire, QC, Canada
2002 Arts Station , "Small Sizes", Mont-Saint-Hilaire, QC, Canada
2002 Arts Station , "Jazz and Colours", Mont-Saint-Hilaire, QC, Canada
2001 National Library Number Review, "Cloning Question", mixed media, Montreal, QC, Canada
2001 Mont-Saint-Hilaire Art Museum , "Art pour tous" expo contest, QC, Canada
2001 Brancusi Center , "Oscillations", Montreal, QC, Canada
2001 Cultural Table of the Richelieu Valley, itinerant exhibition, Mont-Saint-Hilaire, Saint-Basile-Le-Grand, Chambly, QC, Canada
2001 National Assembly , "Painting" Quebec, QC, Canada
2001 Arts Station , "Raise, Drop the Masks", installation, Mont-Saint-Hilaire, QC, Canada
2000 Mont-Saint-Hilaire Art Museum , "Art pour tous" expo contest, QC, Canada
2000 Miniature Art Biennial, Ville-Marie, QC, Canada
2000 Cultural Centre of Havre Aubert , "We're in Heaven The Sea" Symposium, Iles-de-la-Madeleine, QC, Canada
2000 Visual Arts Center , "Beyond Differences", Saint-Hubert, QC, Canada
2000 Brancusi Center , "Passage in Time and Spirit", Montreal, QC, Canada
2000 Arts Station , "Kaleidoscope is Borduas" and "Migrating Shoes, installation, Mont-Saint-Hilaire, QC, Canada
2000 Michelangelo Gallery , Montreal, QC, Canada 1999 Sutton Arts, QC, Canada
, "Different Proposal II" itinerant exhibition, Longueuil, Sorel, Vaudreuil, Saint-Jean-sur-Richelieu, QC, Canada
1998 Desjardins Complex , "Russian Winter", Montreal, QC, Canada
1998 Arts Station , "Great Disarrangement" painting and engraving, Mont-Saint-Hilaire, QC, Canada
1997 Regional Museum of Kolin , "Quebec's Painters and Sculptors of Circle", Czech Republic Main Professional Achievements Professional
Professional Realizations
2010, Creation of an "Oriflamme" for Musée des beaux-arts de Mont-Saint-Hilaire, QC, Canada
2009-2010, Symposium L'Art salin, Carleton-sur-mer, QC, Canada
2000-2001-2002-2010, Member of the jury, exhibition contest Saint-Bruno-de-Montarville, QC, Canada
2009, Symposium ART'O, Saint-Jean-sur-Richelieu, QC, Canada
2009, Installation "Alice et le Lapin blanc au jardin", Arts Station, Mont-Saint-Hilaire, QC, Canada
2008 13th Symposium of High-Richelieu. Creation of the theme and creation of a Work for the publicity of the symposium
2007 Invited artist, 12th edition of "Festival of the Arts, Saint-Basile-le-Grand, QC, Canada
2000-2001 Member of the jury - expo contest of the City of Saint-Bruno-de-Montarville, QC, Canada
1999-2000 Municipality of Mont-Saint-Hilaire , "Door to Democracy", QC, Canada. Participation in the creation of a monumental work
1997-2003 Council of Administration "Productions tableaux, QC, Canada
1995 Co-founder of the multi-disciplinary Arts Center, Arts Station, Mont-Saint-Hilaire, QC, Canada
1995 Administration Council of Arts Station (Vice-Chairman)
Collections
City of Saint-Jean-sur-Richelieu, QC, Canada
City of Saint-Basile-le-Grand, QC, Canada
ART'O Creative COOP Saint-Jean-sur-Richelieu, QC, Canada
The Chateau Residence Club, Beaver Creek, CO, USA
Foundation Paul-Emile Borduas, Mont St-Hilaire, QC
National Library of Quebec, QC
National Library of Ottawa, ON
Bibliography and Videography
"Preliminary Primer" TVHR9 , 2010 - Heart Choice - TV interview
"Culture" TVHR9 , 2008 TV interview
Bédard, Louise-Marie, "Échos de l'indiscible" Parcours, art et vie, no. 65 p. 96-98, 2008
Viau, René, "The Red and the Black pacified", Vie des arts, no. 212 p. 28, 2008
"People who make the event" Magazin'art , 2008
ArtFolio 2005-2006, Fine Arts Catalogue, Toronto, Ontario, 2005.
Bertrand, Pierre, Parcours, art et vie, ed Liber, 2001
Grande, John K., Vie des arts, no. 180 p. 56, 2000
Tele-Quebec and Canal Vie, 2000
Teaching and Animation
1971-2005 Art Studio for Children
1995-2010 ... Art Studio for different groups of adults
1971-2011 ... Animation at the Botanical Garden of Montreal and different cultural centers
2007 Conférencière invitée, Fête des arts, Saint-Basile-le-Grand, QC

Professional Affiliations
RAAV Member ( Consolidated Artists in Visual Arts Quebec ), Montreal, QC, Canada
ART'O Member, creative co-op, Saint-Jean-sur-Richelieu, QC, Canada