Miklos Rogan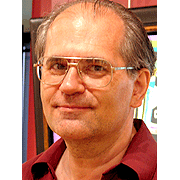 Miklos Rogan was born in 1953, in Budapest, Hungary. He graduated from the famous Bela Bartok Music Academy of Budapest, more specifically in piano. He arrived in Canada in 1988 and established himself in Ontario. Gradually, he left his piano for his paint brushes. In 1994, he won the "Best Show Award" at the Cornwall Regional Gallery of Ontario. His work can be described as a perfect balance between movement, harmony, curvilinear lines and forms. Although Cubism had a strong influence on his work, his painting is also distinct from it in certain ways. Cubism gave him the formal liberty to explore his subjects without being bound to reality. The canvas structure and surface are important parts of his work, as they are for Cubism. However, he does not deconstruct, like the cubist painters, but tries to organize a very dynamic surface layout, where shape and color not only cohabitate to also interact with each other, thus leading our gaze towards visual explorations, through esthetics and a fascinating pictorial universe. His shapes are always stylized and are used to create associative and narrative connections with the different elements in the composition. Miklos Rogan exhibited in Vienna (Austria), Budapest (Hungary), Montana (USA), Cornwall, Waterloo, Aylmer, Ottawa, Belleville and Collingwood (Ontario) and in Montreal (Québec). He now resides and paints part of the year in Montreal and part of the year in Hungary. Important exhibitions of his work were presented in Vienna in 2001 and 2003 and in Montreal in 2005.
Résumé
Place of Birth: Budapest, Hungary
Date of Birth: 1953
Currently residing: Province of Québec, Canada
Solo Exhibitions
2009 Budai Klub Galeria, Budapest, Hungary.
2005 Galerie Lamoureux Ritzenhoff, Montreal, Canada.
2003 Galerie Atelier T, Vienna, Austria.
2001 Galerie Am Opernring, Vienna, Austria.
2000 Galerie Am Opernring, Vienna, Austria.
1995 Cornwall Regional Art Gallery, Cornwall, Ontario
Group Exhibitions
2001-2016 Lamoureux Ritzenhoff Gallery, Montréal, Québec
2010 "INSITU" Saint-John Art Center, NB, Canada
2010 "INSITU" La Maison de la Culture Notre-Dame-de-Grâce, Montreal, QC, Canada
2009 "Die Genesis", Kabelwerk, Vienna, Austria
2009 "INSITU" exhibition, Helikon Museum, Keszthely, Hungary
2009 "INSITU" Malom Galeria, Szentendre, Hungary
2008 "Die Genesis", Stadtmuseum Saalfeld, Germany
2007 "Die Genesis", Stadtmuseum Bad Ischl, Austria
2006 "Lebenslust", Der Kunstraum, February show, Vienna, Austria
2005 La Maison de la culture Notre-Dame-de-Grâce, "Les Fenêtres", November, Montréal, Québec
2003 Hypotekenbank, Graz, Austria
2003 La Maison René-Richard, Baie St-Paul, Québec
2003 Delta Montréal Hotel, Montréal, Québec
2001 Montreal Museum of Fine Arts - Selected artist, Montréal, Québec
1999 Galerie Am Opernring, Vienna, Austria
1998 Arten Gallery, Budapest, Hungary
1997 Eldon Gallery, Waterloo, Ontario
1997 Galerie Am Opernring, Vienna, Austria
1995 Annual Art Show, Cornwall, Ontario
1995 Galerie d'art Jacar, Aylmer, Ontario
1994 La Galerie d'art Ottawa, Ottawa, Ontario
1994 Theodora Gallery's Christmas Group Show, Toronto, Ontario
1992 Quinte Art Council's 25th Anniversary Exhibition, Belleville, Ontario
1991 Collingwood P. Library, Collingwood, Ontario
1991 Miniature Art Show, Billings, MT, USA
1990 Hyperion Gallery, Ottawa, Ontario
Special Projects
2002 The only Canadian artist invited to participate in the "Genesis" project organized by "Atelier T" in Vienna, Austria.
Bibliography
ArtFolio 2005-2006, Fine Arts catalogue, Toronto, Ontario, 2005.
2002-2004 Repertory of Canadian Artists (Biennal Magazin'Art)
2002 Parcours, l'Informateur des arts magazine, Autumn, image of painting "Scent of Spring", Montreal, Quebec
2002 Focus Canada - magazine of the Canadian Embassy in Vienna
2002 GAM - Art Galleries Guide of Montreal,(Sept., Oct., Nov.), image of painting "Scent of Spring"
Associations
2002 Member of the Canadian Hungarian Cultural Collective